Roses-A Modern Herbal
Roses are a group of herbaceous shrubs found in temperate regions throughout both hemispheres. All the Roses of the Antipodes, South Africa and the temperate parts of South America have been carried there by cultivation.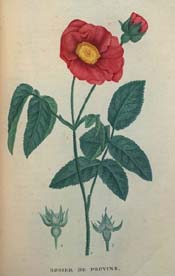 French Rose
(Rosa gallica)
Click on graphic for larger image
The birthplace of the cultivated Rose was probably Northern Persia, on the Caspian, or Faristan on the Gulf of Persia. Thence it spread across Mesopotamia to Palestine and across Asia Minor to Greece. And thus it was that Greek colonists brought it to Southern Italy. It is beyond doubt that the Roses used in ancient days were cultivated varieties. Horace, who writes at length on horticulture, gives us an interesting account of the growing of Roses in beds. Pliny advises the deep digging of the soil for their better cultivation. In order to force their growth, it was the practice to dig a ditch round the plants and to pour warm water into the ditch just as the rose-buds had formed. The varieties were then very limited in number, but it would appear that the Romans, at all events, knew and cultivated the red Provins Rose (Rosa gallica), often mistakenly called the Provence Rose. The word rosa comes from the Greek word rodon (red), and the rose of the Ancients was of a deep crimson colour, which probably suggested the fable of its springing from the blood of Adonis.